Ingredients (6 portions):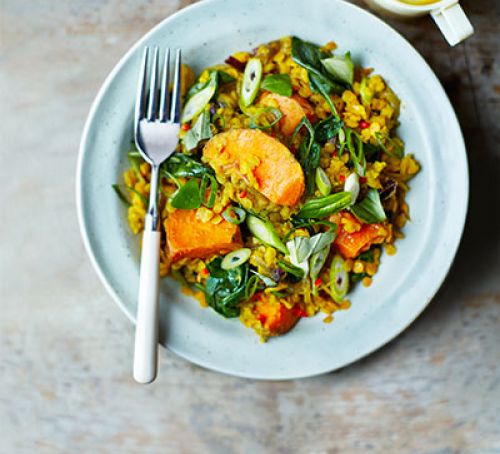 1 red onion (chopped)

3 cloves of garlic

1 tbsp olive oil

1cm fresh ginger (greated)

1 big sweet potato (about 300g)

2 carrots (cut in thicker slices)

1 tsp sea salt

4 tsps curry powder

2 tsps ground cumin

2 tsps coriander

1 tsp sweet paprika powder

1 can of tinned tomatoes (400ml)

1 can of coconut milk (400ml)

500g green (organic) lentils (you can use usual lentils)

1,5L water

1 tsp soy sauce light

1 lime

200g spinach

Method:
In a bigger pan heat up the oil and slightly cook the onion and chopped garlic.

Sweet potato cut into big chunks and add to the pan together with cut carrot and cook for about 2 minutes.

Then add seasoning (salt, curry powder, ground cumin, coriander, sweet paprika powder) and cook for another 2 minutes.

Then add tomatoes and coconut milk and mix well.

Then add raw green lentils and mix well again.

Add water, soy sauce and cook for about 30-40 minutes (or until cooked) and stir every now and then.

At the end add spinach and mix and you can serve.

Nutrition details:
498 Kcal

64g carbs

13,3g fat

24,5g protein