Ingredients (for 6 portions):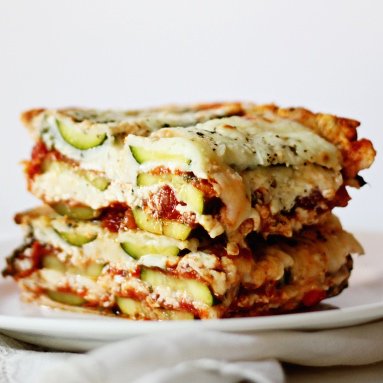 500g minced meat (lean, less than 10% fat)

1 onion

3 cloves of garlic

1 can of chopped tomatoes (400g)

2 tbsp tomato pure

1 tbsp oregano

1 eggplant

2 tsp oliv oil

500g quark or cottage cheese

50g grated parmesan

1 mozzarella (125g)

salt

pepper

Method:
Heat the oil on the pan and quickly cook the onion and garlic. Add minced meat and cook until brown.

Add tomatoes, tomato pure, oregano, salt and pepper (to your taste).

Mix it well and cook it for about 15-20 minutes until the mix thickens.

Mix together quark / cottage cheese, parmesan, salt and pepper.

Slice up the eggplant. Make sure the slices are dry before you use them (use paper towel to get rid of any liquid) and get ready baking dish.

Put half of the meat mix into the baking dish and spread evenly. Put sliced up eggplant on top of that.

On top of eggplant spread half of the quark mix and spread evenly.

Add the rest of the meat mix on top of that and put eggplant slices on top and on top of that the rest of quark mix.

Great mozzarella on top and add salt and pepper (not necessary).

Put it into the preheat oven 180'C and bake for 25-30 minutes until the top is nicely crispy and golden colour.
Nutrition details:
377 Kcal

12g carbs

19g fat

30g protein