Ingredients (4 portions):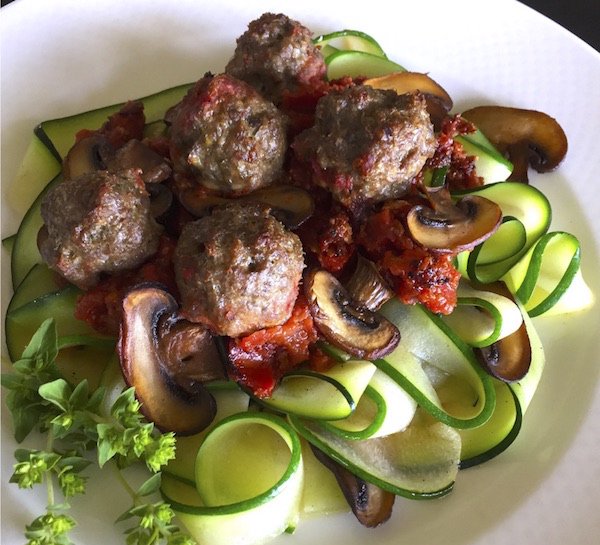 500g lean mince beef

2 onions, chopped

salt, pepper

olive oil

2 cloves of garlic

1 can (400g) tinned tomatoes

4 tbsp basil leaves, finely chopped

4 medium zucchini

parmesan

Method:
Mix mince meat, 1 onion, salt and pepper. Form into 10 small balls.

Preheat a pan with 1 tsp of olive oil and cook the meat balls, turn regularly. When cooked, put on a plate.

To make the sauce, on the pan where you cooked the meat balls, put chopped onion, squashed garlic and cook for a few seconds.

Then add tomatoes, 300ml water, salt, pepper, oregano and chopped basil. Bring it to boil and then add meat balls, reduce the heat and cook for about 20 minutes, or until the sauce is not thickened.

Put water into a medium size pan and bring it to boil. With a spiralizer make spaghetti out of the zucchini or if you don't have a spiralizer, use a peeler and make nice thin slices. Then put into boiling water and cook for 1 minute.

Put it on the plate with meat balls and tomato sauce on top and sprinkle with grated parmesan.