Since childhood I grew up on sweet dishes such as doughnuts, pancakes, muffins, and cupcakes and unfortunately I have not grown out of this sweet taste. So I always look for an alternative that will be nutritious and healthy. One of them is a raw fruit-cheesecake. Its beauty is that the flavor can be "tailored" according to your taste. This is a recipe for banana raw cheesecake and from the following ingredients you will get about 8 pieces.
You need:
Base
210g of nuts, I used a mix of peanuts and cashew nuts (half each)

100g dates or prunes

20g dried coconut

Pinch of sea salt

2 squares of dark chocolate, I use 85% cocoa content (this is not a requirement, once I tried it and it tasted great)

Body


750 g low-fat quark (if you would like more filling, you can use more quark)

2 sheets of gelatin

4 ripe bananas

1 tsp vanilla extract

How to do it:
Base
put aluminium foil or baking paper into a cake dish (it makes it easier to take out)

Sprinkle the dried coconut in the bottom of the dish

grind nuts into a paste (if you have a powerful blender you can use one), I used a pestle and mortar

also cut date or plums into small pieces and mix well with a pinch of salt and the nuts. Press this mixture into your cake dish to form the base

grate the dark chocolate to form a layer on top of your base (optional)

cut one banana into slices and place on top of dark chocolate layer

Stuffing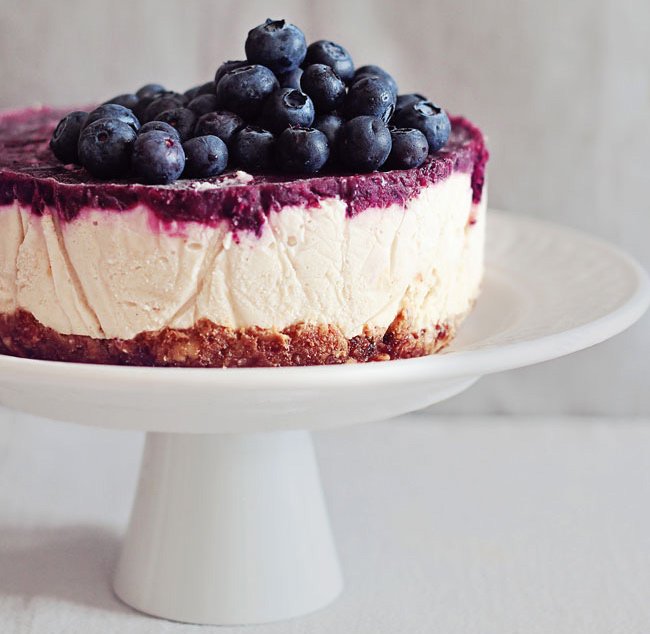 blend 3 bananas and quark until soft

take a little bit of the filling and place gelatine sheets in it and heat up slowly until the gelatin has dissolved (do not boil!!) and then mix with the rest of the filling

add the vanilla extract (I use 1 tsp but you can add more depending on your taste)

mix all the ingredients thoroughly and place into the cake dish

cover and place in the fridge so it can solidify

best served the next day, but if you would like to serve it as soon as possible, place it into the freezer for about 2 hours

You can decorate it to your liking. I sliced up a banana and put over the top to decorate and served it with frozen blueberries, which when defrosted it released a bit of juice and added a great taste to it. I believe that you will love it, especially in the hot summer days, as it is a very refreshing and light cake.
If you also have some interesting recipes for raw cakes, share them with us. Next time I will share raw fruit cake with no dairy with you.
Nutrition per slice (whole cake is 8 slices):
310 calories

25g carbs

15g fat

19g protein